Original Story |

The Whiz Kid
Thursday, December 2, 2004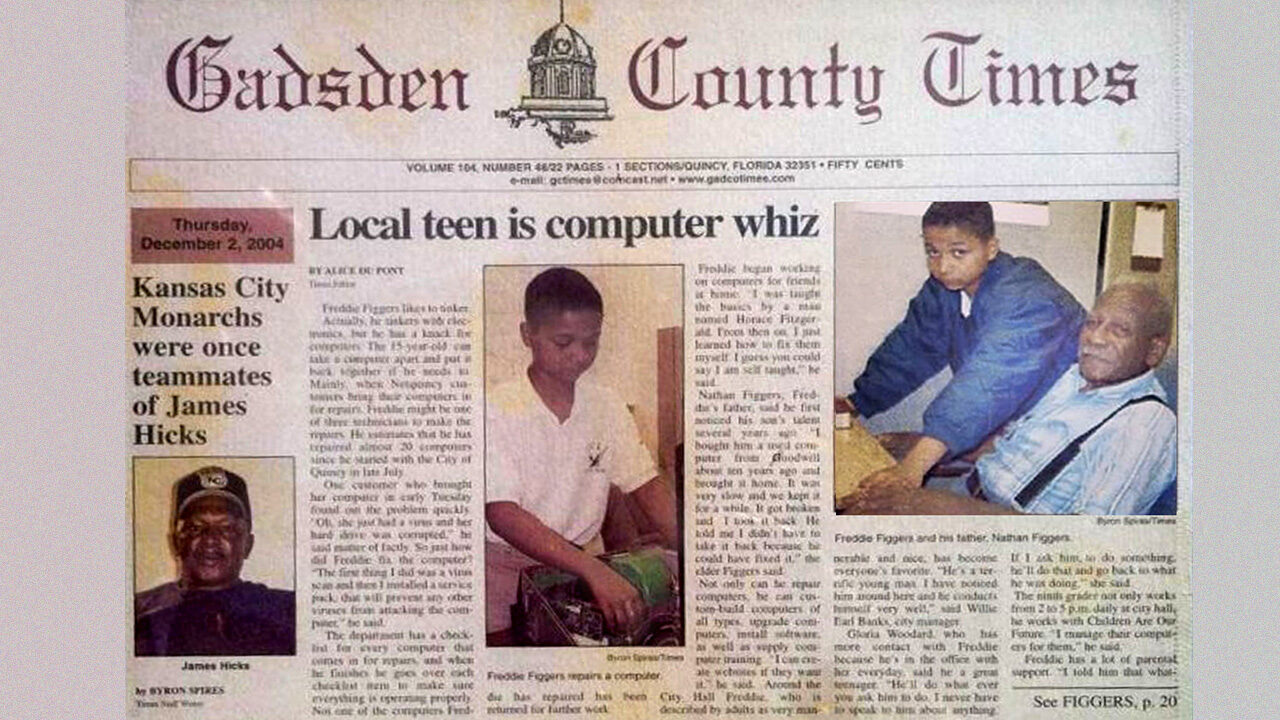 Freddie Figgers likes to tinker. Actually, he tinkers with electronics, but he has a knack for computers. The 15-year-old can take a computer apart and put it back together if he needs to. Mainly, when Netquincy customers bring their computers in for repairs, Freddie might be one of three technicians to make the repairs. He estimates that he has repaired almost 20 computers since he started with the City of Quincy in late July.
One customer who brought her computer in early Tuesday found out the problem quickly. "Oh, she just had a virus and her hard drive was corrupted," he said matter of factly. So just how did Freddie fix the computer? "The first thing I did was a virus scan and then I installed a service pack, that will prevent any other viruses from attacking the computer," he said.
The department has a checklist for every computer that comes in for repairs, and when he finishes he goes over each checklist item to make sure everything is operating properly. Not one of the computers Freddie has repaired has been returned for further work. Freddie began working on computers for friends at home. "I was taught the basics by a man named Horace Fitzgerald. From then on, I just learned how to fix them myself.
I guess you could say I am self taught," he said. Nathan Figgers, Freddie's father, said he first noticed his son's talent several years ago.
"I bought him a used computer from Goodwill about ten years ago and brought it home. It was very slow and we kept it for a while. It got broken and I took it back. He told me I didn't have to take it back because he could have fixed it," the elder Figgers said.
Not only can he repair computers, he can custom- build computers of all types, upgrade computers, install software, as well as supply computer training. "I can create websites if they want it," he said.
Around the City Hall Freddie, who is described by adults as very mannerable and nice, has become everyone's favorite. "He's a terrific young man. I have noticed him around here and he conducts himself very well," said Willie Earl Banks, city manager. Gloria Woodard, who has more contact with Freddie because he's in the office with her everyday, said he a great teenager. "He'll do what ever you ask him to do. I never have to speak to him about anything. If I ask him to do something, he'll do that and go back to what he was doing," she said.
The ninth grader not only works from 2 to 5 p.m. daily at city hall, he works with Children Are Our Future. "I manage their computers for them," he said. Freddie has a lot of parental support. "I told him that whatever he wanted to do with computers, I was behind him 100 percent and he just took it from here," Nathan said. Freddie and his father know that he is working toward a future in computers.
"I don't know where I want to go to college, but I do know that I want to major in computers," he said.
Computers don't take up all of his time. He breeds and raises pit bulls for sale. All of his animals are registered with the American Dog Breeders Association (ADBA). "They require a lot of work. I have to feed and water then daily as well as groom them. I like all animals but I especially like dogs," he said. All of his older brothers and sisters have gone and as the only child left at home, Freddie's computers and dogs take up most of his time. He has a few friends that he likes to associate with but his dad said he has never been a problem.
"He's quiet most of the time. He's alright," Nathan said, beaming with pride.
The one thing Freddie hasn't been able to do is get his father to develop an interest in computers. "Oh, one of these days, I guess I might try it," the elder Figgers said. John Thomas, director of telecommunication, said Freddie's computer skills are above average. "He is a computer whiz kid. I would compare his knowledge to that of a college senior right now. By the time he finishes high school, his skills will be over the top," Thomas said.